Killer whale performance: Not to be missed!
The most dynamic show, no doubt, is one performed by killer whales at Ocean Stadium. Kamogawa Sea World is the only place in Japan that puts on performances featuring orcas, so I recommend you not to leave the park before sitting through (at least) one show.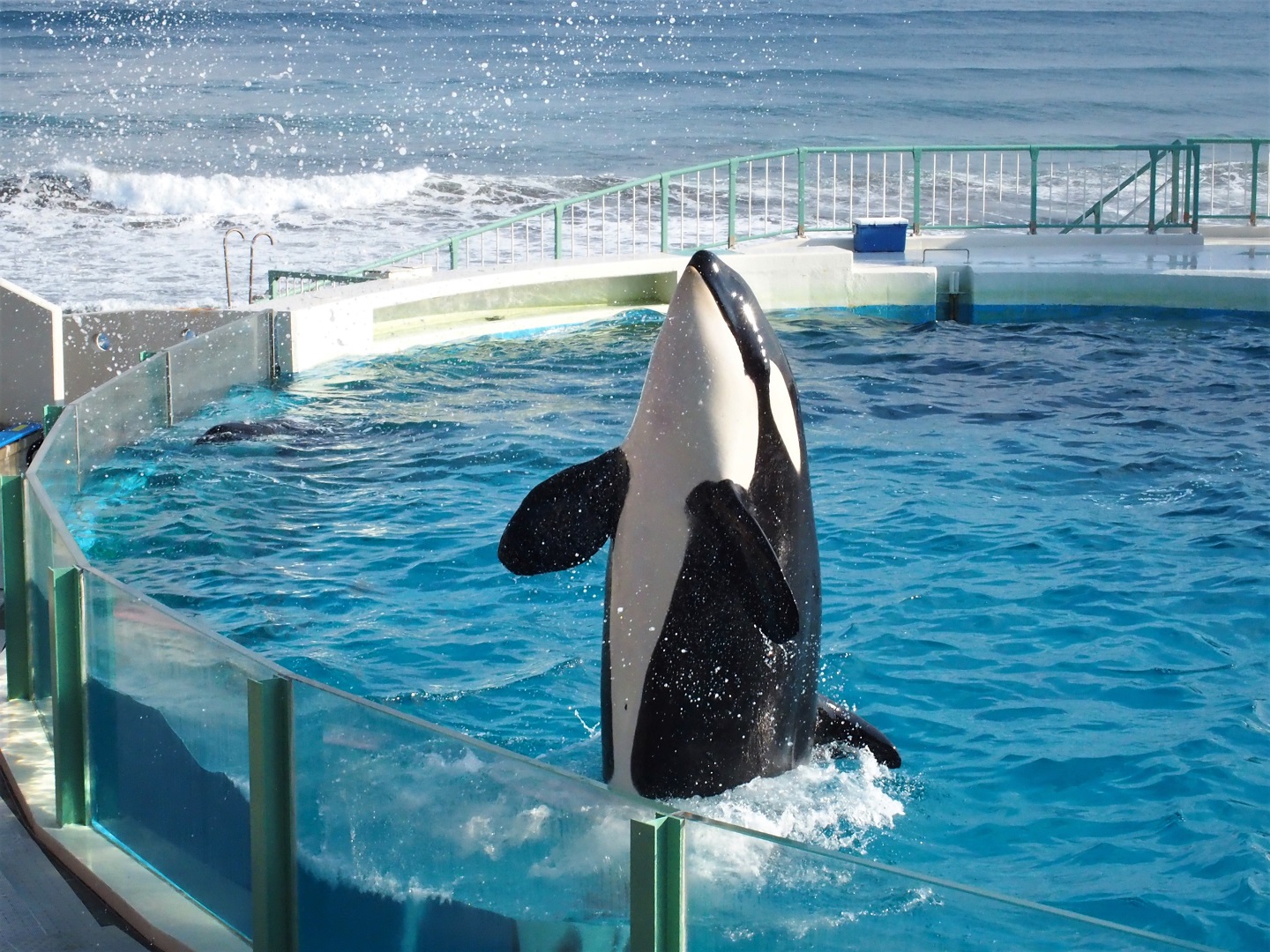 My boyfriend and I were taking pictures, so we positioned ourselves at the back, where we could see the entire stadium. We noticed that the bleachers at the very front were pretty much empty, and most people were seated about 6 to 7 rows away from the pool. But, we soon found out why.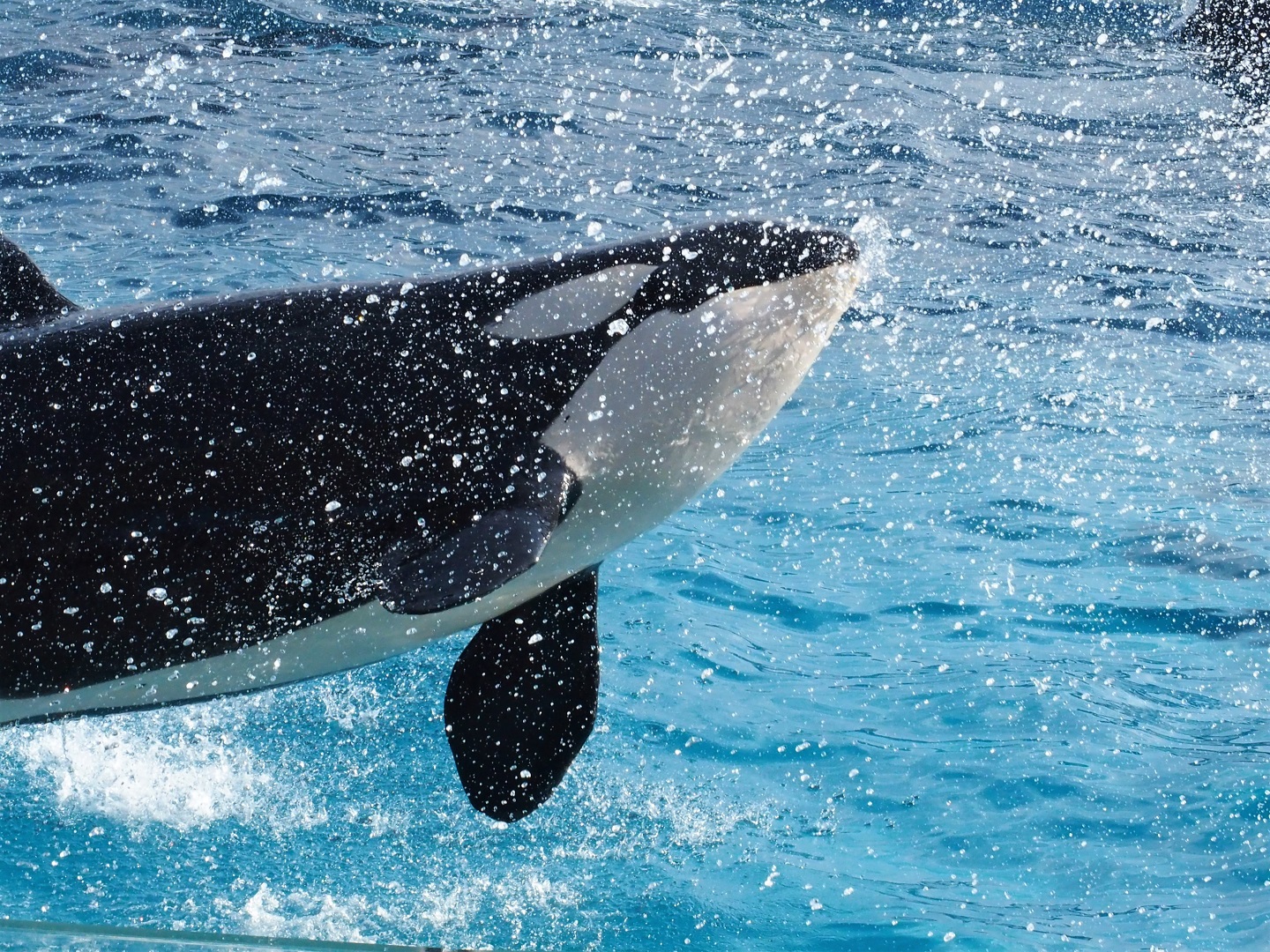 See these splashes of water? Killer whales, as you know, are HUGE. So, when they leap into the air and come crashing back down, they make HUGE splashes.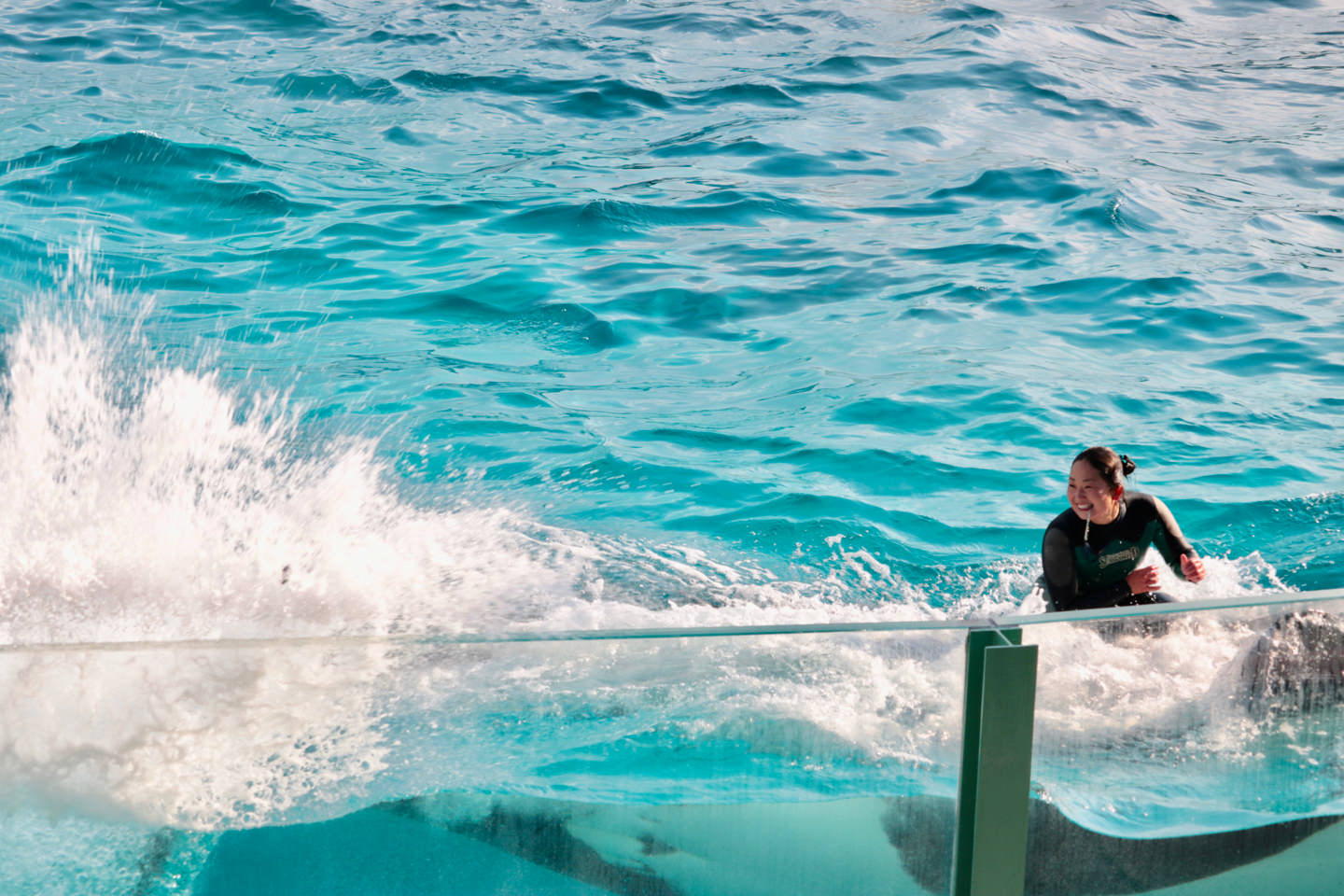 Not only that, the trainers "encourage" orcas to send a large volume of water out of the pool onto the bleachers.
I mean, look at her smile!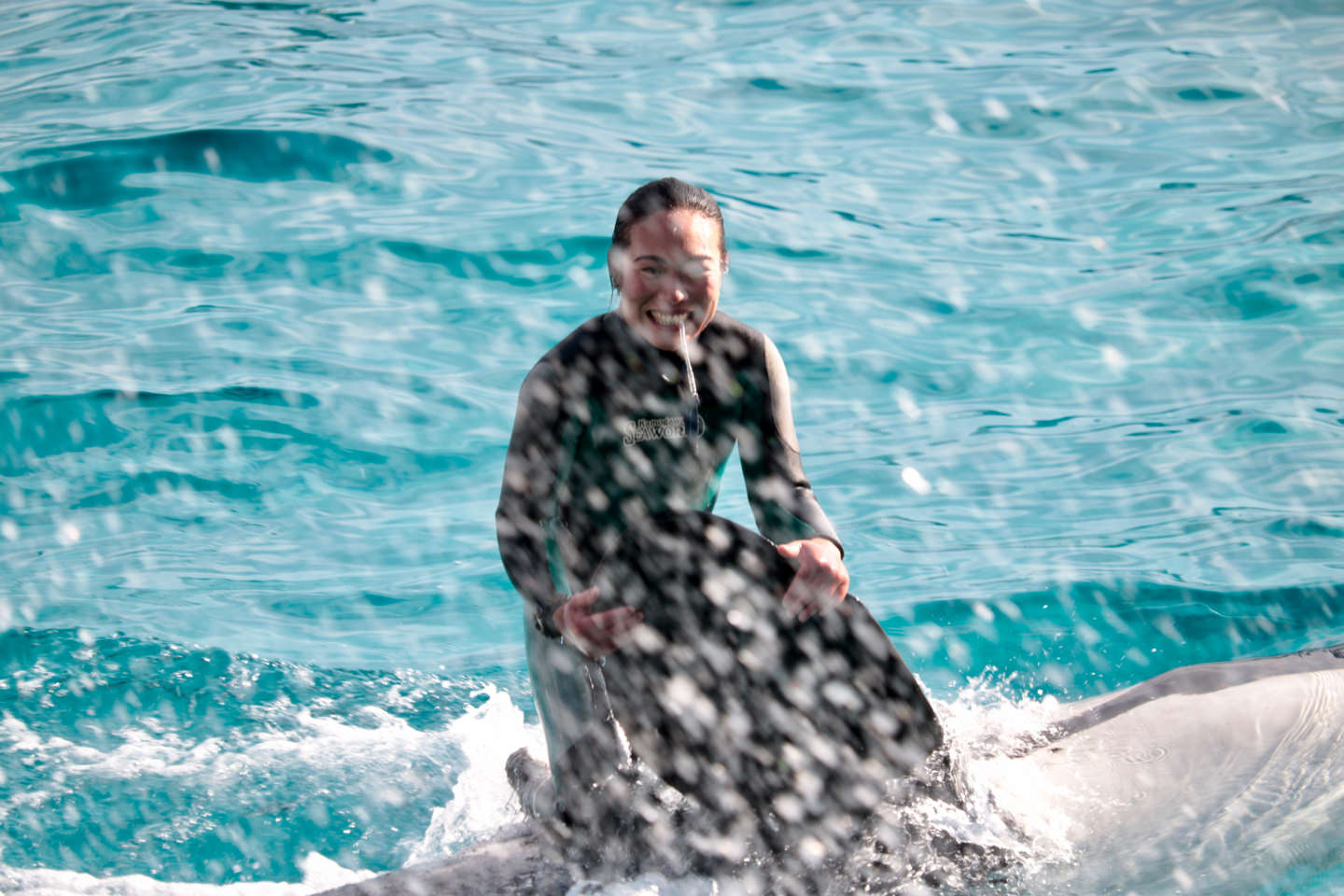 It's a great fun to sit at the front, if you want to experience just how dynamic and powerful the killer whales are. But, I recommend you wear a raincoat or take a change of clothes, and protect your smartphone in a waterproof case…because YOU'LL BE WET!
It was also heartwarming to see how much trust and respect the trainers and killer whales share. Without these, this performance — full of excitement — wouldn't be possible.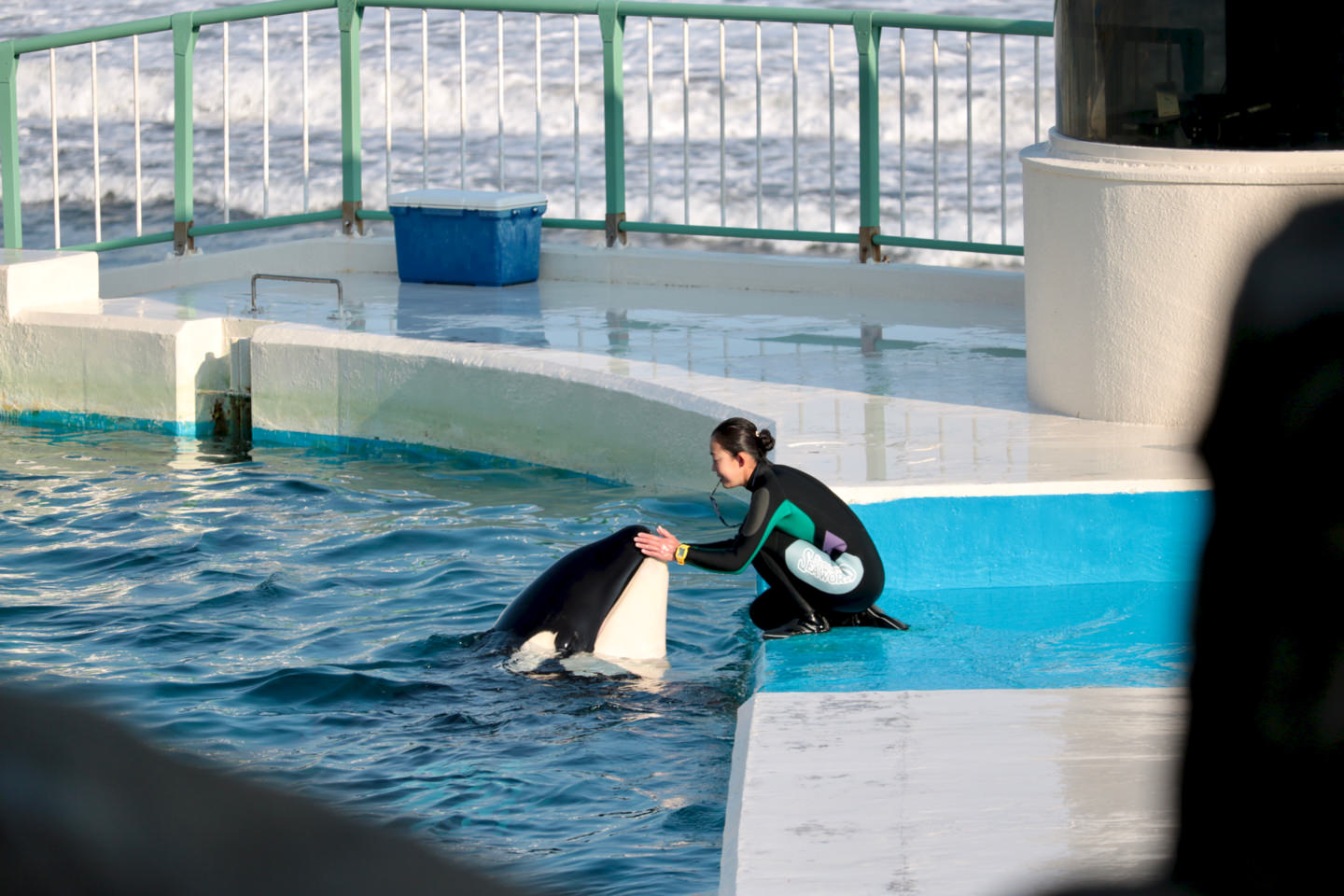 Come and spend a day at Kamogawa Sea World!
It was the first time in about 20 years that I visited Kamogawa Sea World, and I must say a few hours simply wasn't enough. There were many more activities I wanted to try out, such as touching the dolphins and watching the pelicans march.
There are also limited time only events, including a night tour of the aquarium and a chance to experience giving signs/directions to dolphins and even swimming with them in a pool!
Whether you're with your family, boyfriend or girlfriend, or a group of friends, Kamogawa Sea World is a fun place to spend a day exploring and enjoying the beauty of the ocean life.
Address
1464-18 Higashi-cho, Kamogawa, Chiba Prefecture
TEL
0470-93-4803
Hours
9:00-17:00 (may vary slightly throughout the year)
Fee
One-day ticket (2,800 yen/adult, 1,400 yen/child, 2,100 yen/aged 65 or above)
*Please check here for details