If you've traveled or lived in Japan, I'm sure you've had wasabi before (or at least heard the term in restaurants or izakayas). Yep, it's that thing that looks like horseradish, except it's green…and if you have it a little too much at one time, your nose starts running and you can't help but cry (yep, been there, done that myself).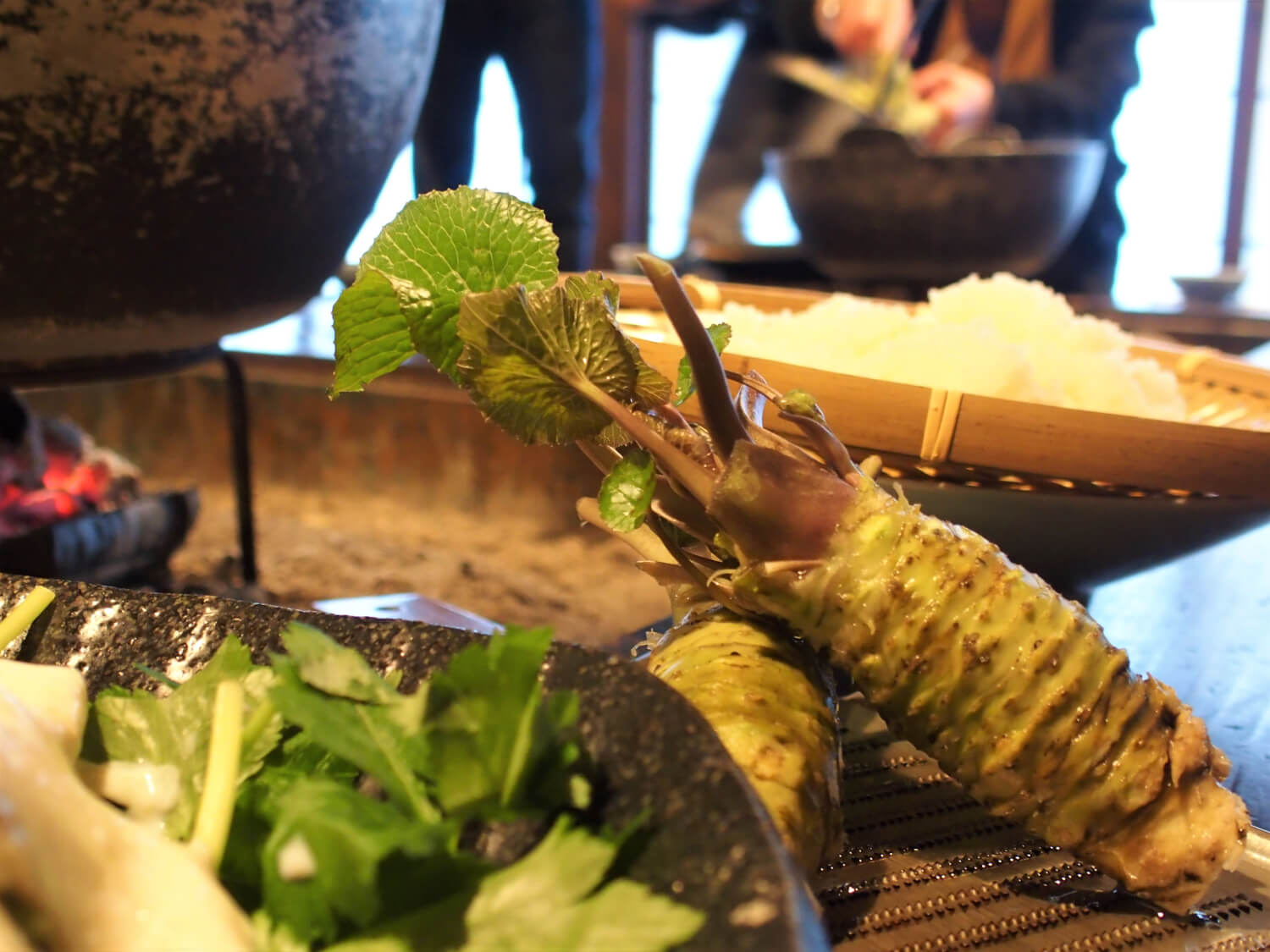 Wasabi is normally used as a condiment, and you often encounter it when you're eating sushi or sashimi. But, just like many other foodstuffs, you can savor wasabi in a variety of ways — including putting it in "nabe," or traditional Japanese hot pot dish. And that's how I enjoyed it at Funabarakan.
Onsen that's said to have existed since 900 years ago
Funabarakan is located in Funabara Onsen, a hot spring town in central Izu Peninsula, eastern Shizuoka Prefecture. It's been said that Minamoto no Yoritomo, a Japanese warrior who lived in the latter half of the 12th century and founded the bakufu, a system of feudal lords which governed Japan for seven centuries, discovered this onsen — which, if true/proven, means that this hot spring has been in existence for about 900 years.
Funabarakan itself has a long history, ran by many proprietors before the father of the current owner, Mr. Suzuki, started operating the ryokan in 1958.
It's not as spicy as it seems
I'll write more about Funabarakan and its great onsen and cozy, traditional interior at a later date, and get back to discussing the ryokan's signature dish, wasabi nabe.
Once in the room, we saw nabe, or hot pot, placed over irori (Japanese traditional hearth) .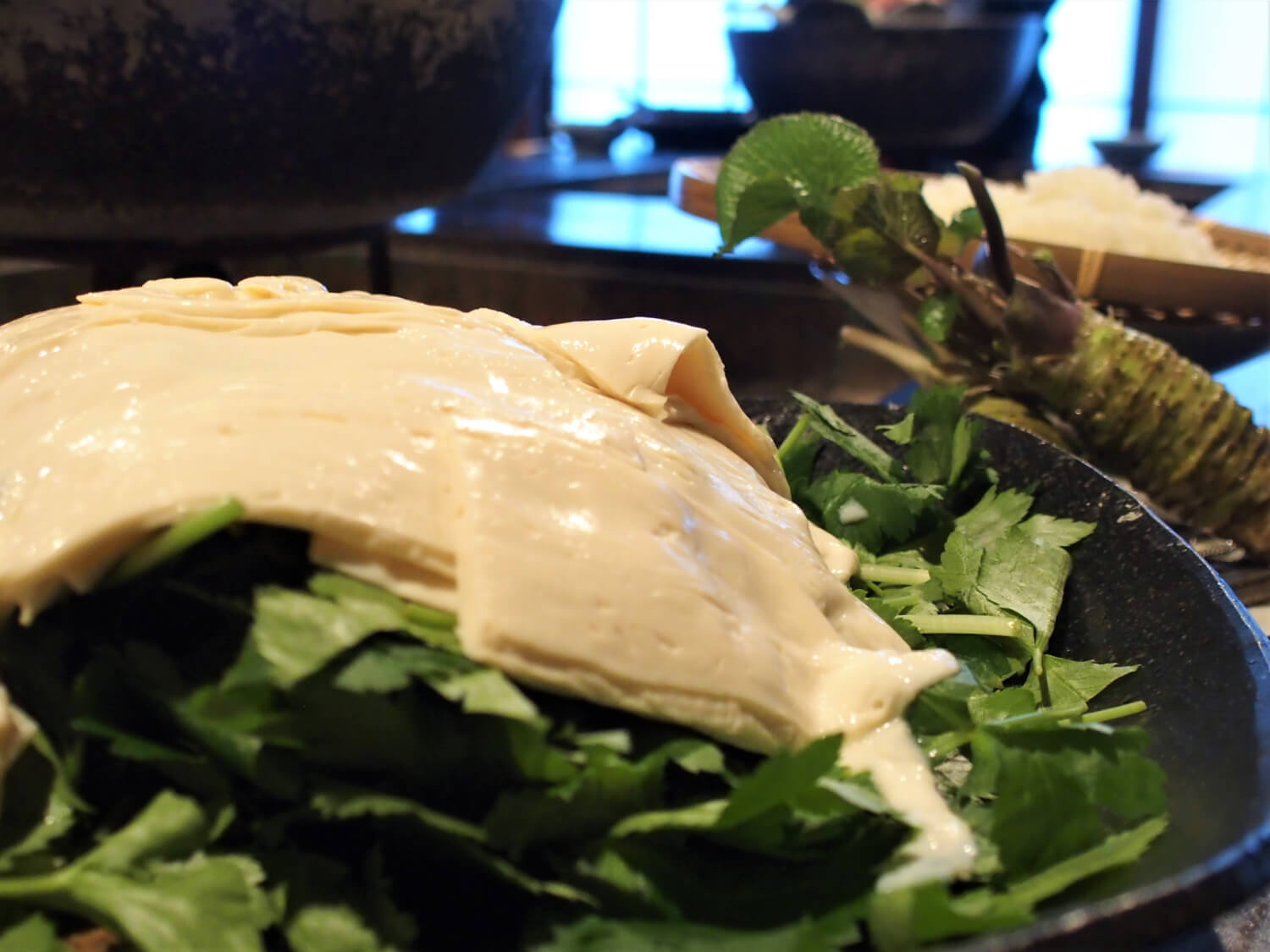 The ingredients are:
Shiitake mushrooms
Gobo (burdock roots)
Duck meat
Mitsuba (Japanese parsley)
Yuba (tofu skin) — a specialty of Shuzenji, an area in central Izu Peninsula — it's that white stuff you see over the veggies in the front
Daikon oroshi (grated daikon radish) — another white stuff in a basket seen behind wasabi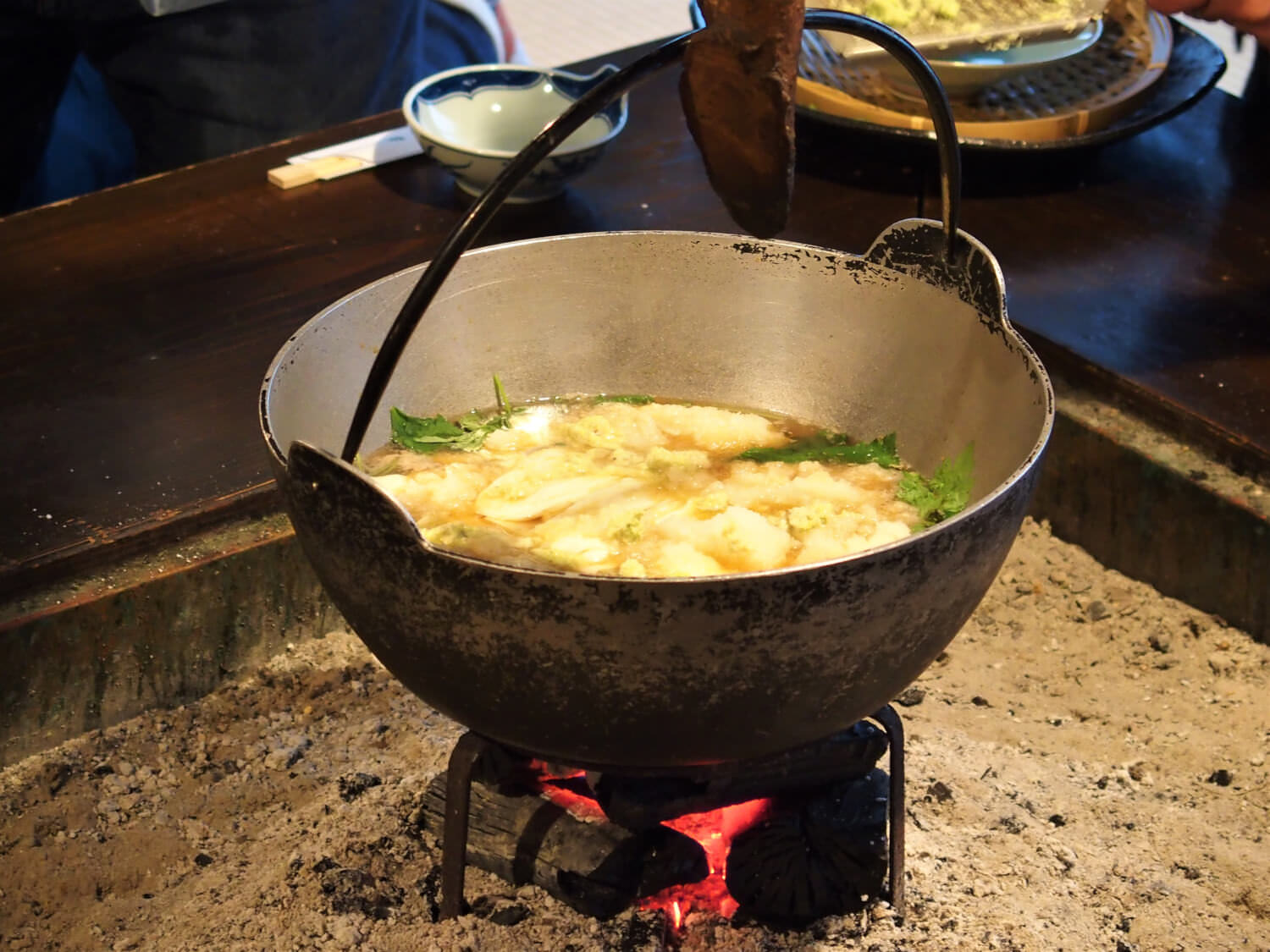 The soup was a combination of stock obtained from boiling pieces of Amagi Shamo, a species of locally-grown chicken, and katsuo dashi (bonito fish stock soup).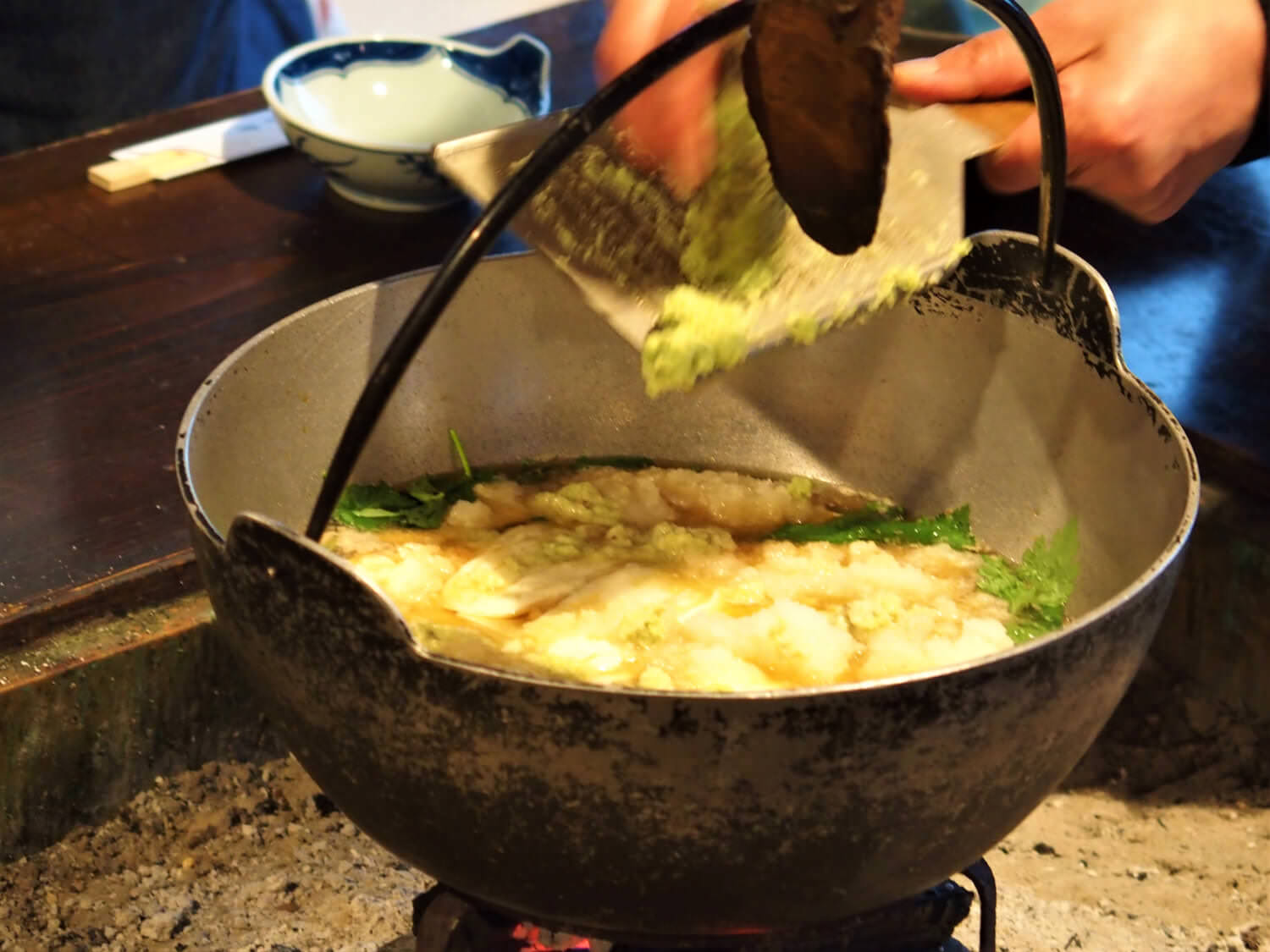 And to this, we add locally-grown wasabi, freshly grated including its skin. Continue to cook for a little more…and it's done! Ready to eat.
Now, you might think that it's VERY spicy, after seeing how much wasabi was put in at the cooking stage. It is spicy, I have to admit. But, it's not explicit or too overt. If you didn't see the dish being cooked, you probably wouldn't be able to tell there's wasabi inside. After chewing for a while, then you start noticing. The spiciness of wasabi enhanced the overall flavor… and I guess, in a way, giving it a sense of direction.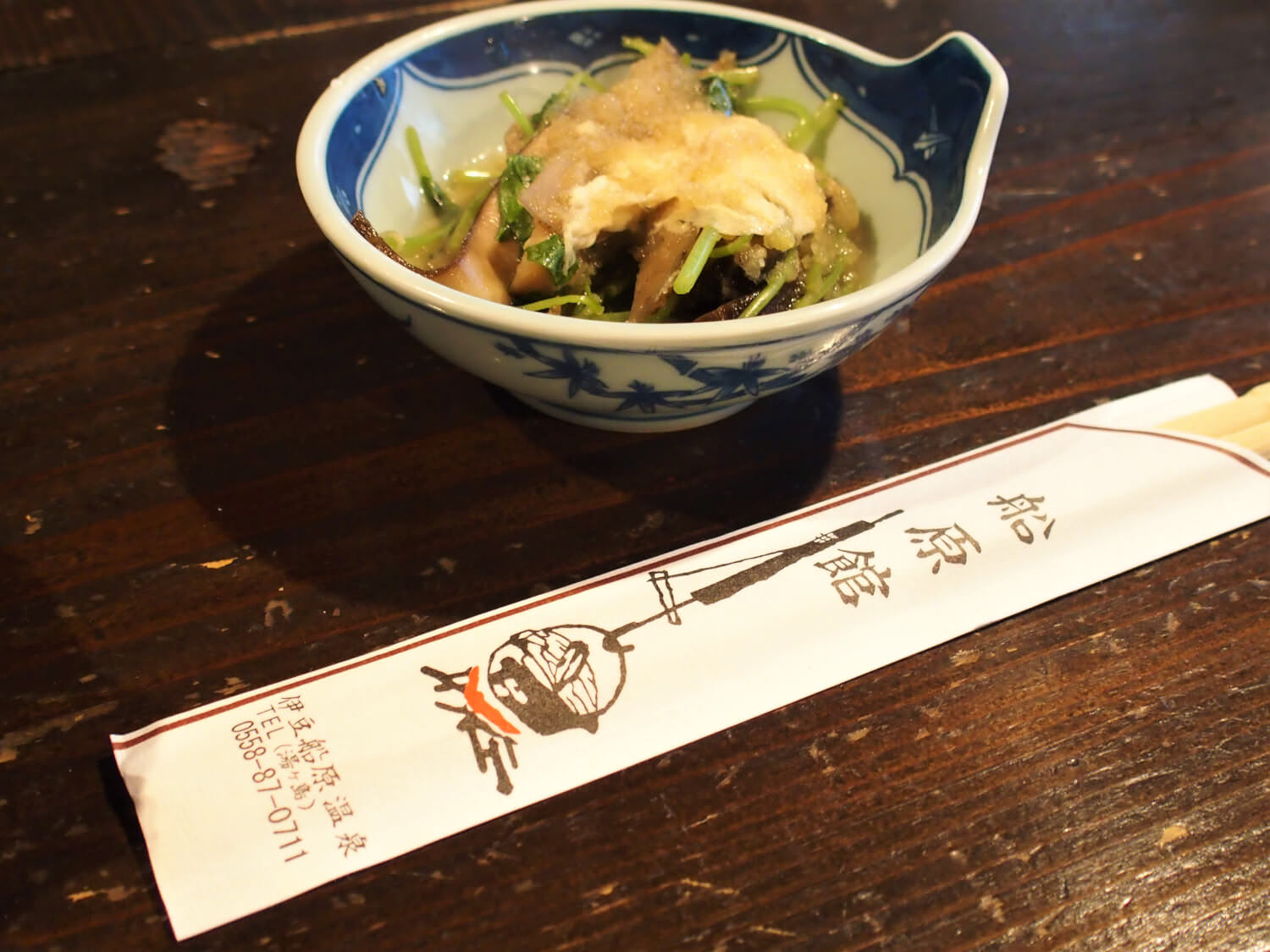 Mr. Suzuki, the owner of Funabarakan, said the ryokan prepares the dish without chemical seasonings or additives. No wonder it tastes so natural and — for the lack of better words — good!
To try the wasabi nabe, spend a night at Funabarakan. It has a truly nostalgic feel to it, so I'm sure you'll get to fully experience what staying at a traditional ryokan is like.
Funabarakan

| | |
| --- | --- |
| Address | 518-1 Kamifunabara, Izu, Shizuoka Prefecture |
| TEL | 0558-87-0711 |
To get here…
Take bus that goes to "Amagi Yugashima" from Shuzenji Station, and get off at "Funabara Onsen" (about 30 minutes ride). Funabarakan is a couple minutes' walk from the bus stop.
[blogcard link="https://www.funabarakan.jp/"]