We spent a relaxing night at Ochiairo Murakami, a ryokan (Japanese-style inn) located in Izu Peninsula, Shizuoka Prefecture, as I wrote in my previous entry.
[inarticle link="https://stroll.work/en/ochiairo-murakami-izu-shizuoka/"]
Part of the relaxation, obviously, comes from the onsen (hot spring) experience. Here at Ochiairo, there are a variety of onsen public baths to choose from — or, you'll get to enjoy all of them if you keep track of time. This is because two of the main onsen change between men/women depending on the time of the day (i.e., one onsen is for men during nighttime, while the other is for women; in the morning, they swap).
"Tengu-no-yu": An open-air onsen with a cave
One onsen that's not to be missed is the open-air bath called "Tengu-no-yu," located by the river. Tengu, as some of you may know, is a supernatural creature that often appears in Japanese folktales. Amagi, the name of the area that Ochiairo Murakami is located, is famous for its tengu legend; it's said that tengu used to secretly visit this outdoor hot spring bath and rest by the river.
Facing your back and looking away from the river, you'll see what looks like an entrance to a cave.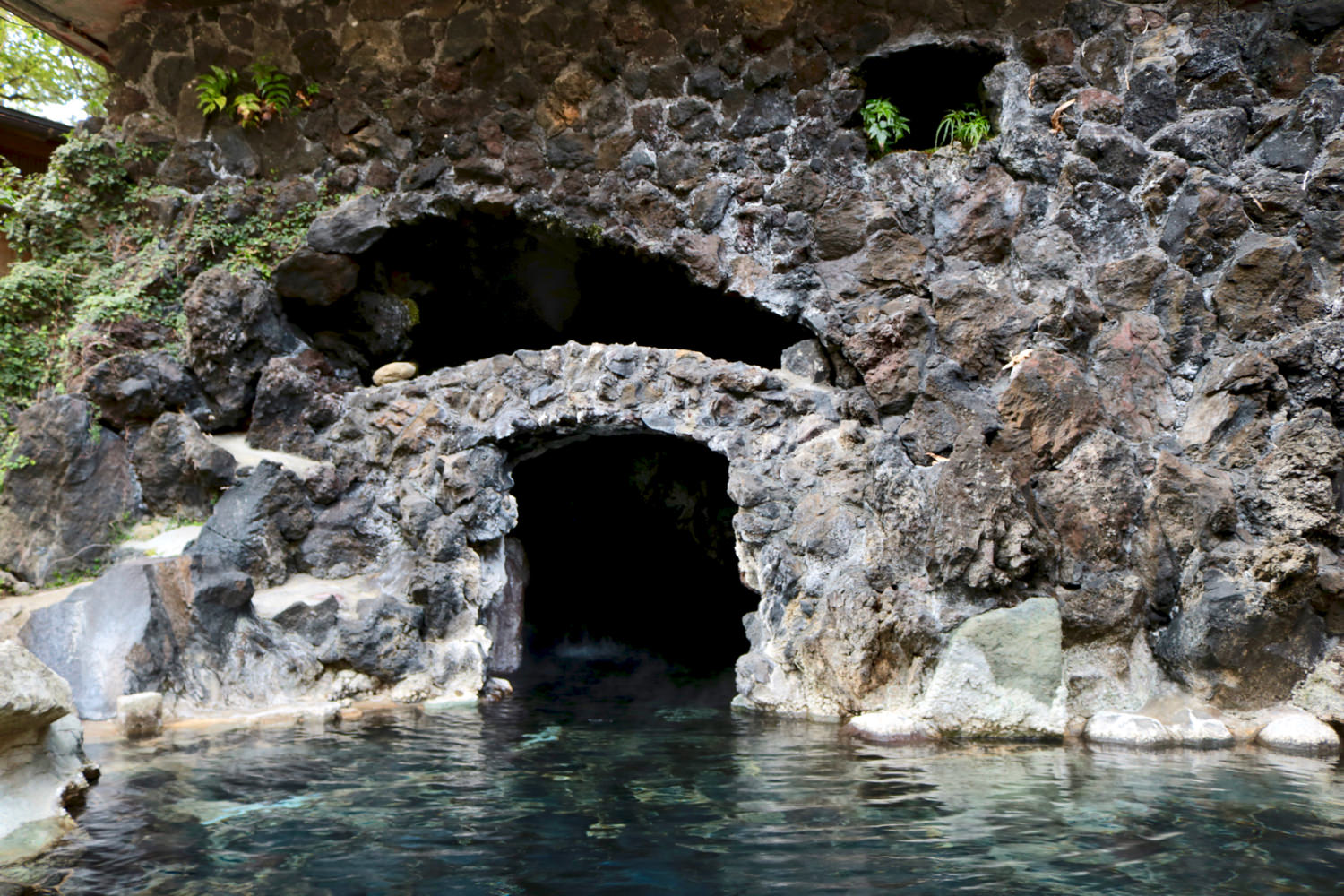 Stepping inside, you'll find a mystic yet cozy onsen.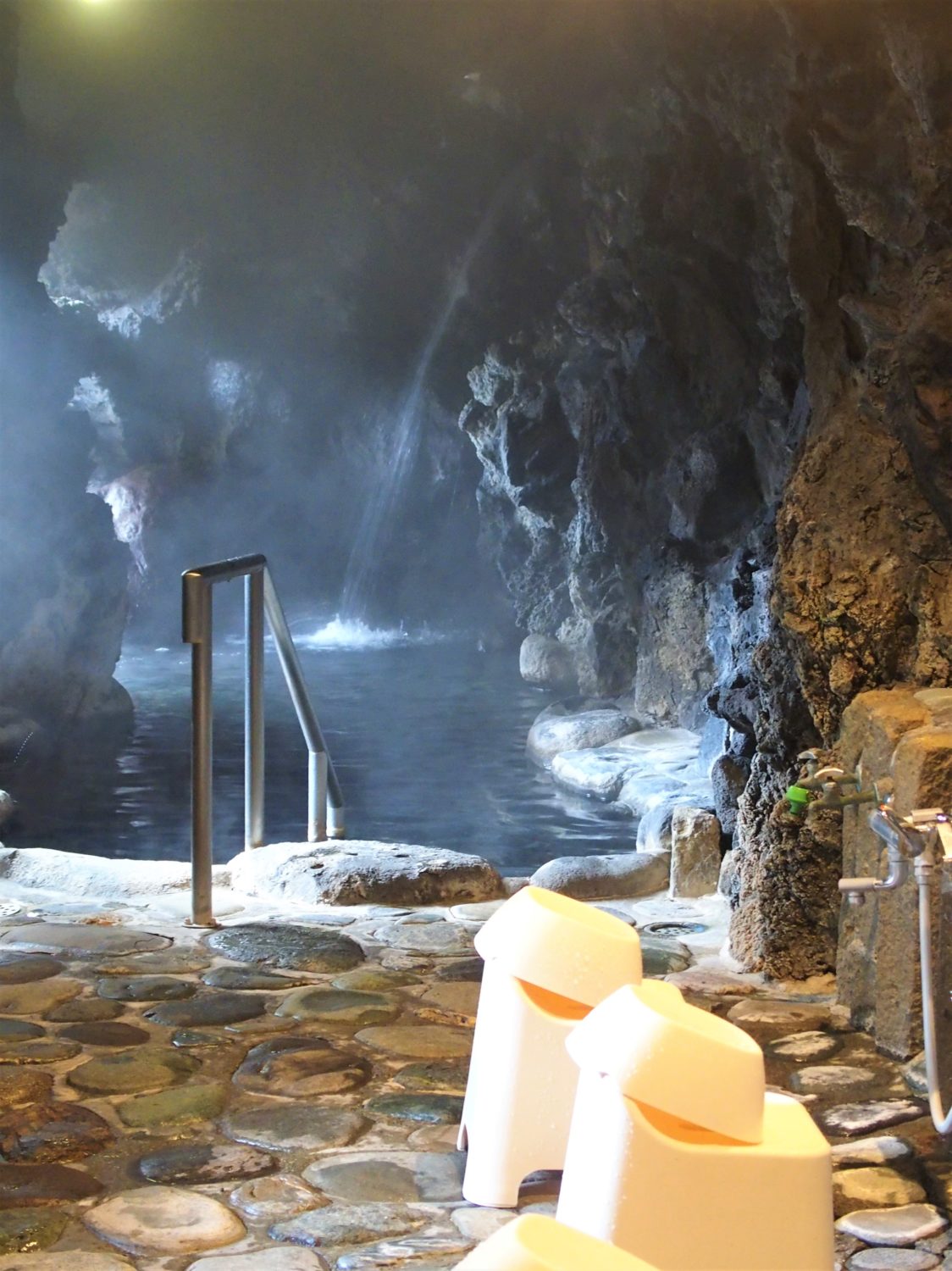 You might be a bit hesitant and wary about an open-air hot spring during winter months. Here's my suggestion: First, wash yourself in the washing area (shown toward the front in the above picture), and then warm your body in the cave bath. Then, walk out to the open-air "Tengu-no-yu" and indulge in the hot water as you listen to the soothing sound of water made by the river below. Finally, go back to the cave onsen and warm your body one last time before stepping out to put your clothes on.
A retro modern onsen decorated with mosaic tiles
Ochiairo Murakami has another onsen public bath that's completely different from "Tengu-no-yu." It's a retro modern bath decorated with tiles, both inside the bathtub and on the walls. It fits about 10 people.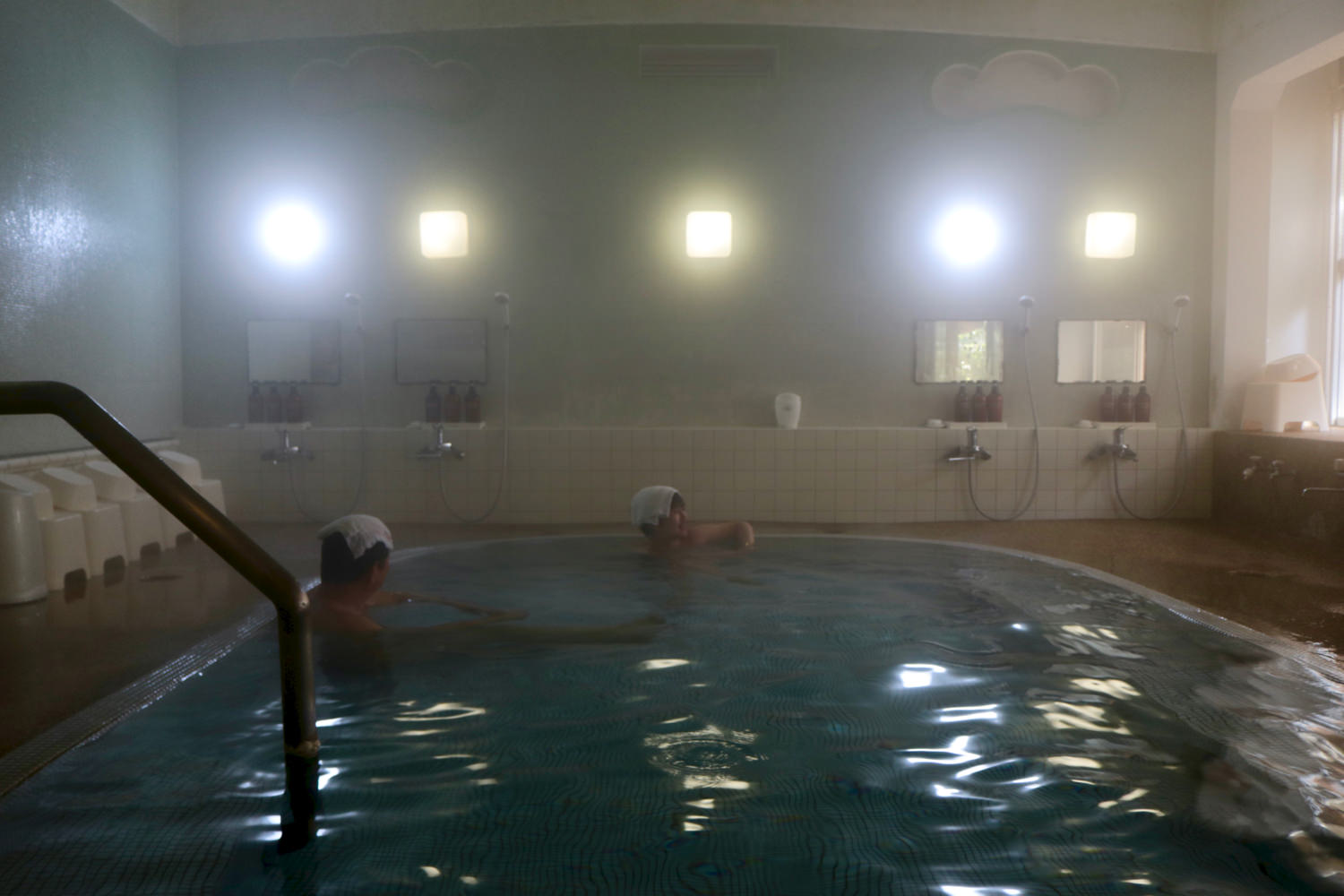 This tiled onsen is connected to a half open-air hot spring called "Hisago Buro." It's a bit small — perhaps perfect for about 4 to 5 people. You can indulge in the soft sound of river water from this bath as well.
By the way, this tiled onsen and "Tengu-no-yu" are two onsen that change between men and women depending on time — I'd recommend you check with the front desk (preferably when checking in) which onsen is available for which gender at what time of the day.
Relax without interruption in a private hot spring
I know some of you may feel a bit awkward about bathing in public (especially if it's your first time in Japan). Or, you just want to have a completely relaxing time in an onsen, either by yourself or with your loved one(s). If that's the case, be sure to stop by the front desk and make a booking for a "kashikiri (private)" open-air onsen. The best part is that it's free of charge!
To get to the private bath, step out from this door.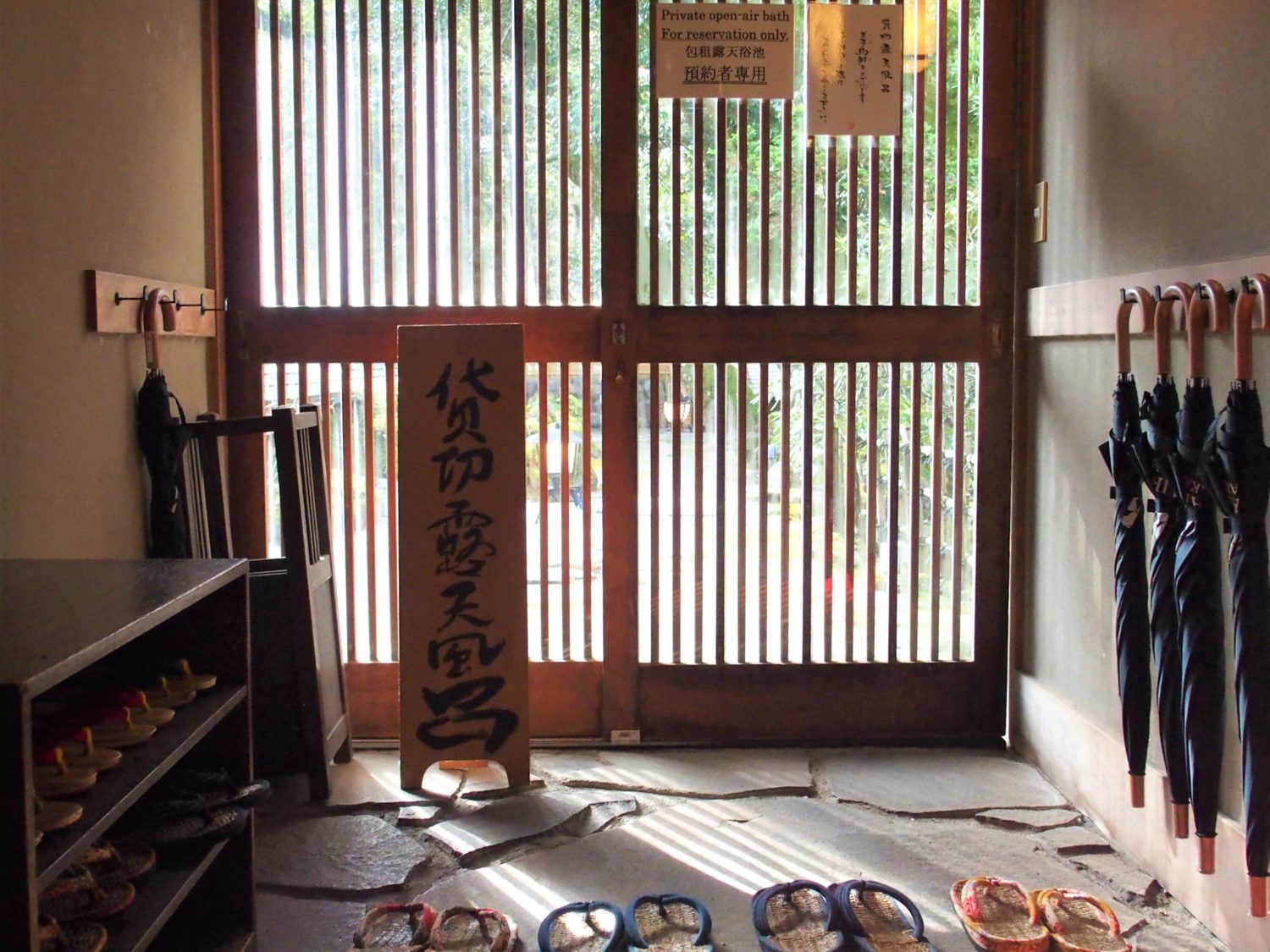 You'll find yourself in a garden.
Walk past the building shown in the left photo above, and you'll find the entrance to the private open-air hot spring.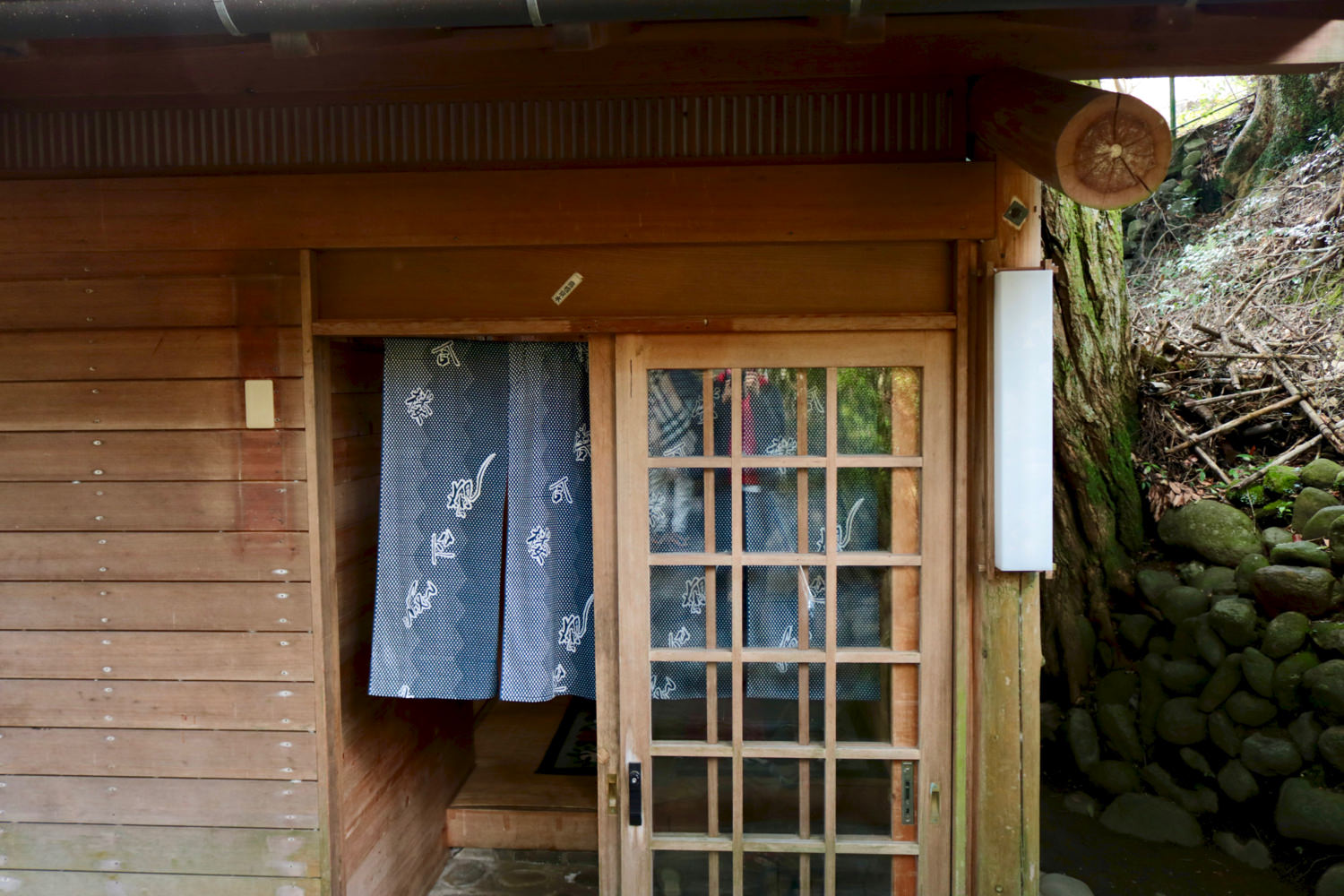 The changing area inside is nice and clean, with a heater/AC unit on the wall. I loved the baskets for storing your clothes in, as well as the weaved chairs — they go along well with the wooden interior, don't you think?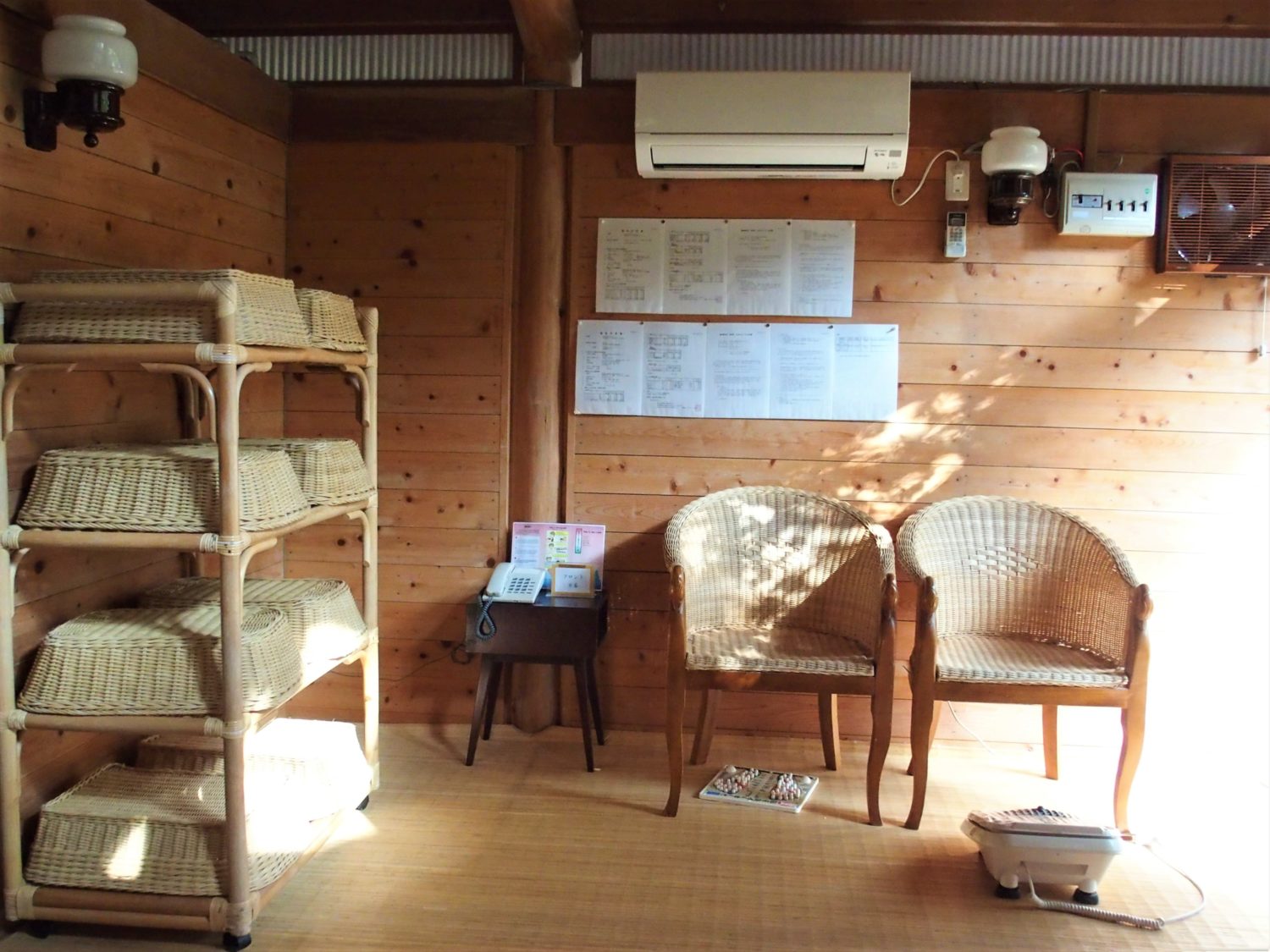 The onsen is surrounded by trees and bamboo fences. That as well as the rocks and pebbles forming the bathtub make the space a very cozy one, perfect for spending a precious time uninterrupted by others.