I've written two articles so far, describing how awesome my stay at Ochiairo Murakami, a traditional ryokan in Izu Peninsula, Shizuoka Prefecture, was.
[inarticle link="https://stroll.work/en/ochiairo-murakami-izu-shizuoka/"]
[inarticle link="https://stroll.work/en/ochiairo-murakami-izu-shizuoka-onsen-and-cultural-properties/"]
But, what probably amazed and intrigued me the most were all the intricate and beautifully presented dishes served at this Japanese-style inn. And, to make things even more special, we were given an opportunity to enjoy a savory dinner and breakfast in a great banquet hall — one of the government-registered tangible cultural properties in this ryokan.
Colorful dishes not only great for taste buds, but also for eyes!
We were served an authentic "kaiseki," a multi-course traditional Japanese dinner.
Starting off with a pre-dinner drink, served in a cute little sake cup.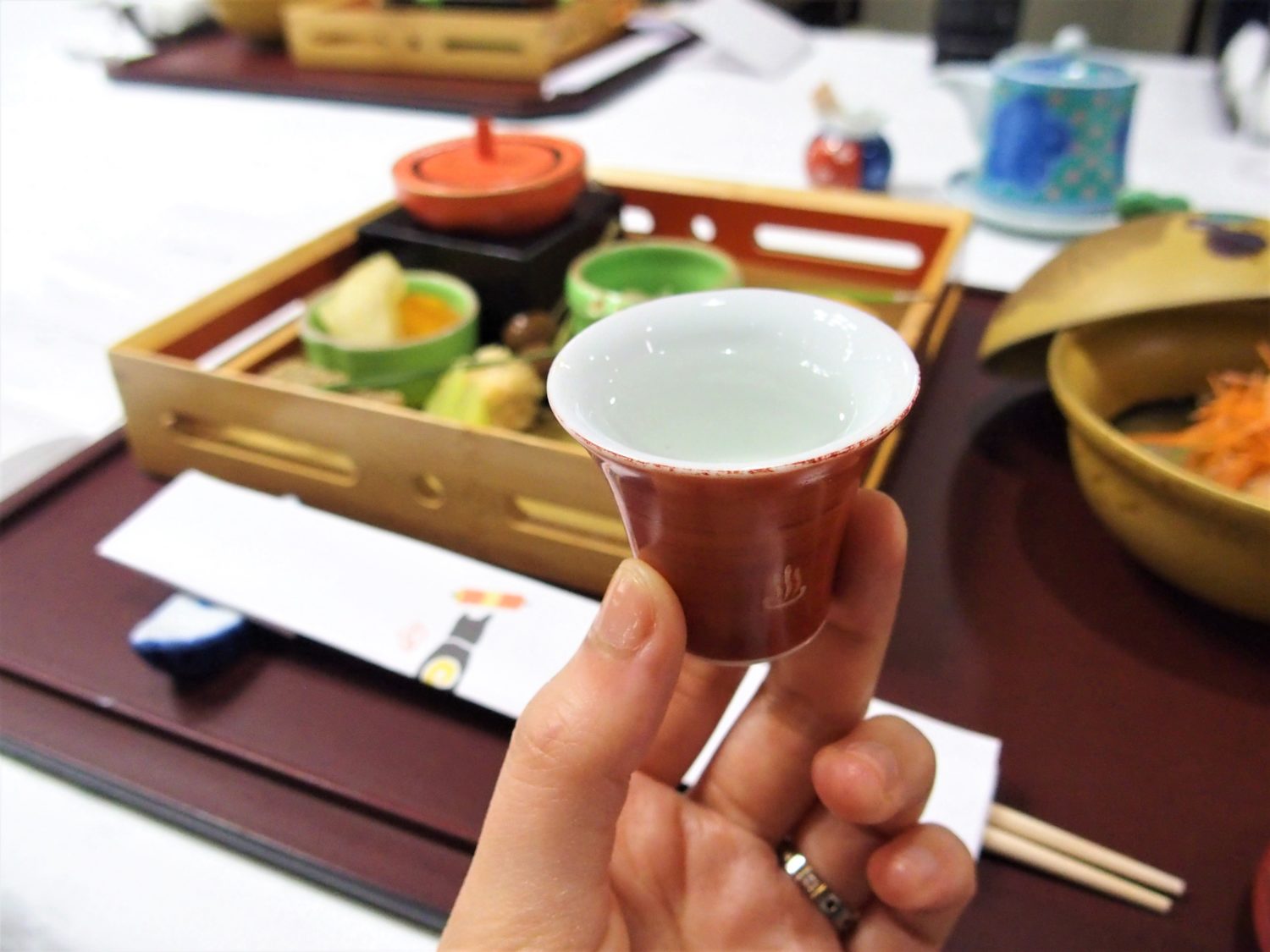 An appetizer was a lotus root dumpling, drizzled with some gravy-like sauce made from "yuba" tofu skin and decorated with lots of veggies.
Onto a plate filled with appetizers. There were some Japanese delicacies too, such as "namako" sea cucumber in ponzu sauce.
There were seasonal dishes, such as "nanohana," or canola flowers. They were cut into small pieces, wrapped in seaweed and deep-fried. I especially loved "kinkan" Japanese orange, cut so that it was shaped like a flower. Sweet and refreshing, it went well with the rest of appetizers.
Then came a delicately-flavored soup with pink-colored mochi and locally-grown vegetables.
This was followed with a selection of sashimi: "kinmedai" (red bream), "houbou (red gurnard)" and "medai" (Japanese butterfish) marinated in kombu seaweed. These came with some fresh wasabi roots grown in the local Izu Amagi region, which released a great smell when grated with a shark skin grater.
Look, a daikon radish piece shaped like a turtle! Turtle is a symbol for wisdom and luck in Japan. The kanji says "daikichi," which means "excellent luck."
A simmered dish that day was roasted beef prepared using the Okamoto Beef. The cattle were raised and grazed in the foothills of Mt. Fuji in a stress-free environment — which is probably why the meat was so tender and juicy!
Hidden beneath the beef was a slice of "beni kururi daikon," a type of radish that is red both inside and out.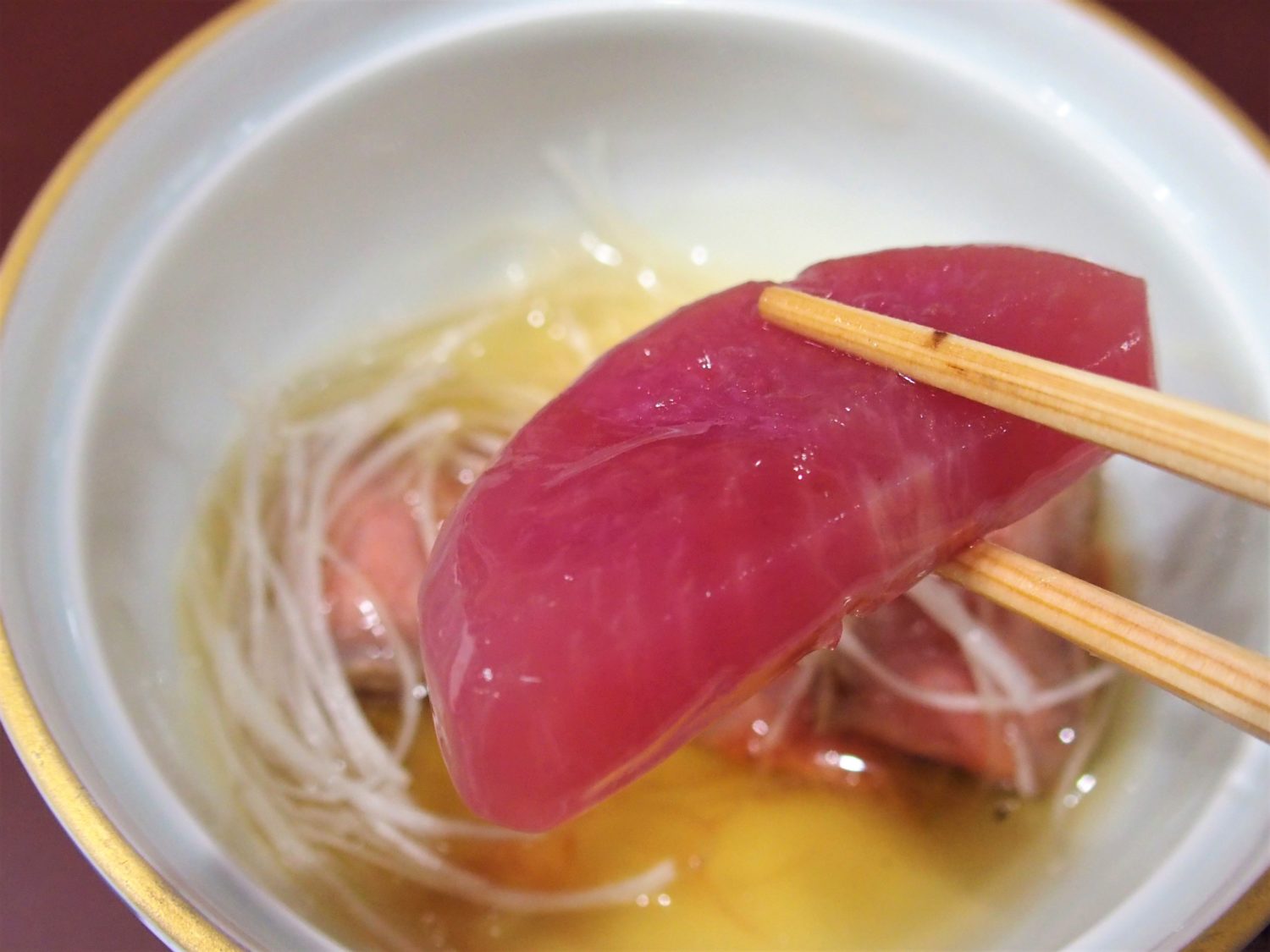 Then came "chawanmushi," a Japanese steamed egg custard. It was prepared using soy milk, and had some crab meat, shiitake mushrooms and mitsuba leaves.
This was followed by a "sunomono," or a vinegar-based dish. Looking through all the photos, you'd probably agree that this was the most photogenic food of the night.
Now, this dish was fun to look at, too. Grilled "kamasu" (Japanese barracuda) and Amagi Shamo chicken — the former flavored with miso, while the latter simply prepared with salt — in a bowl prepared by scooping out the insides of an orange!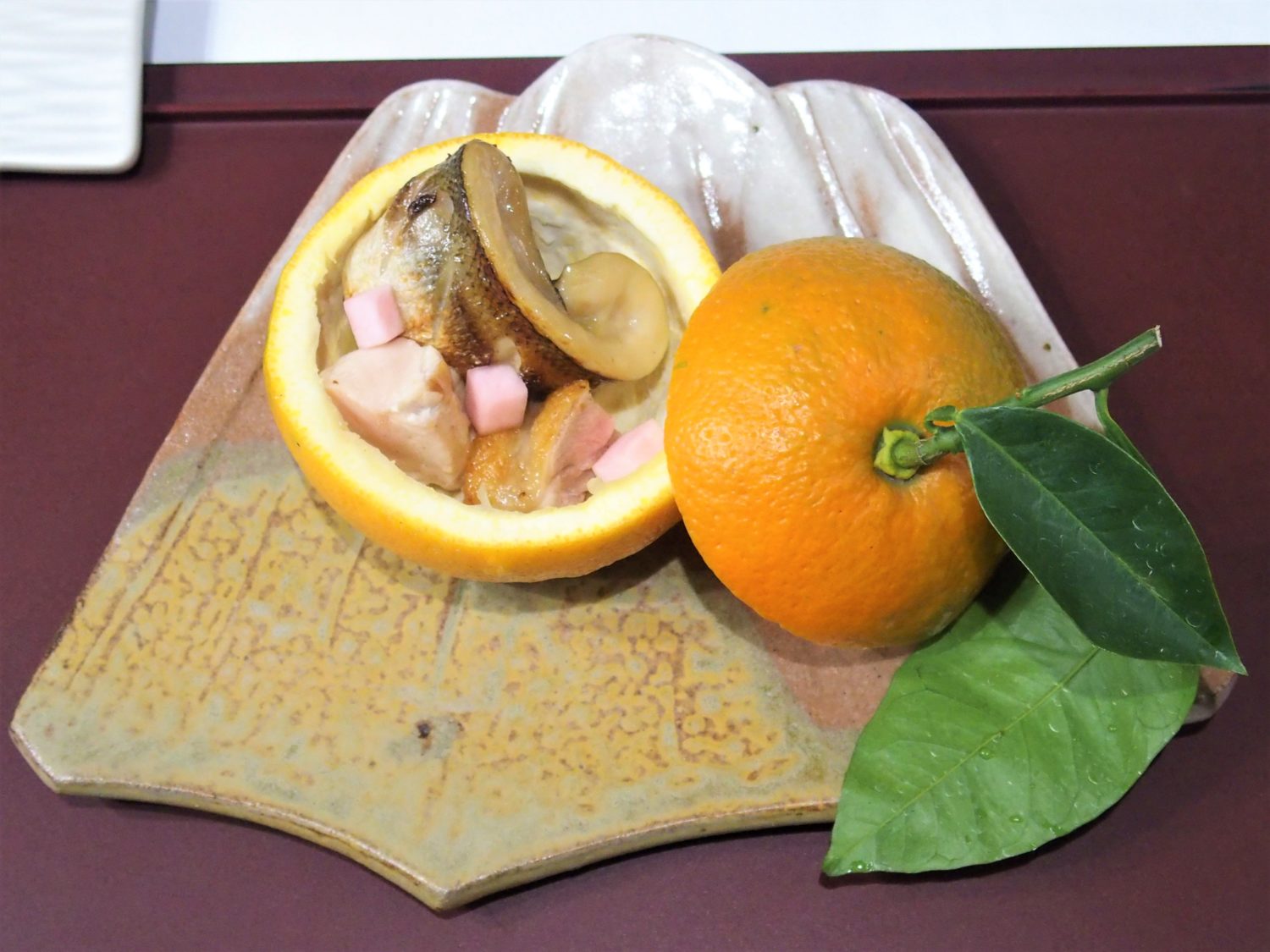 Rice, prepared traditionally in a "donabe" earthenware pot, was eaten together with "jyako" (dried young sardines).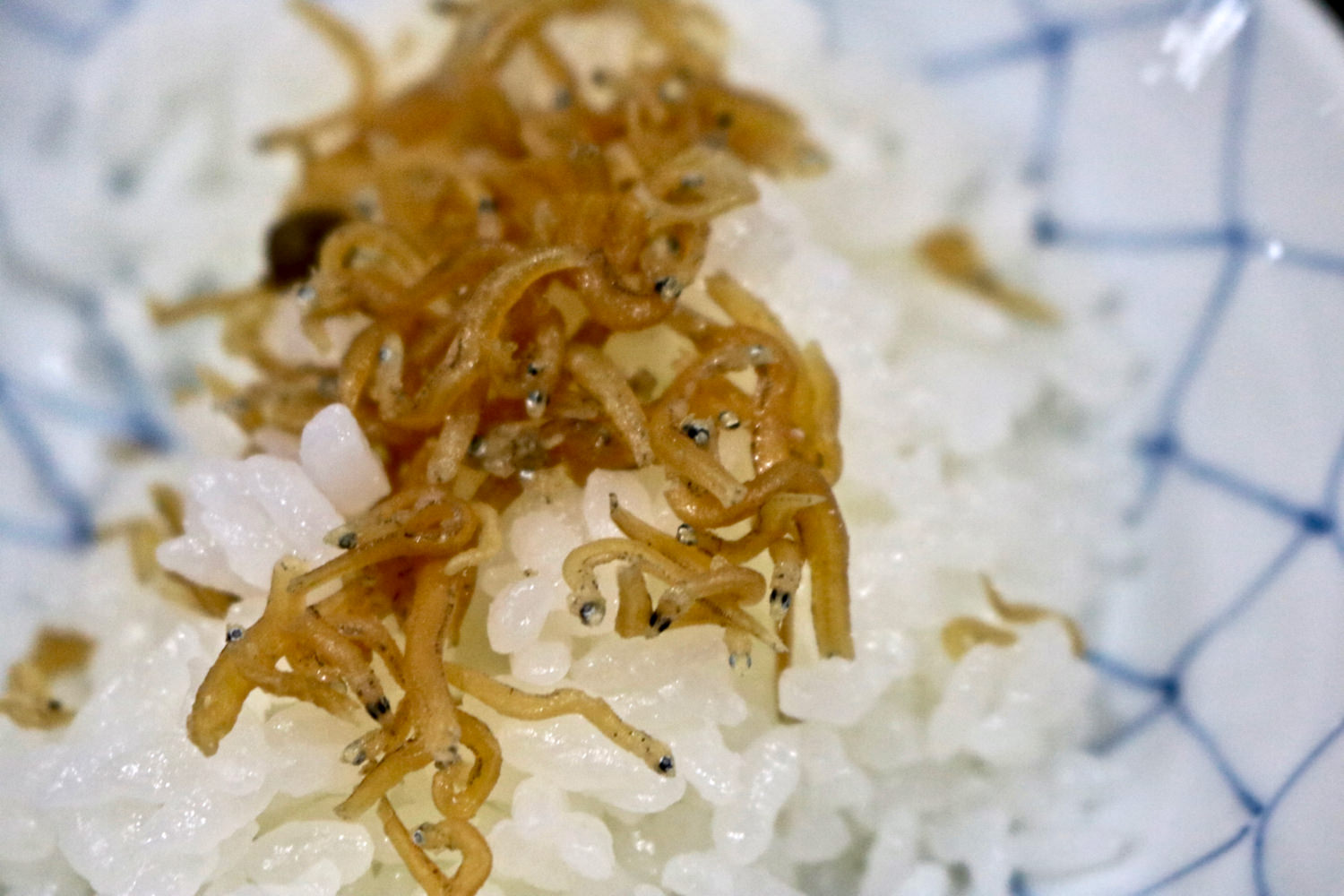 Finally, to wrap up the gorgeous and satisfying dinner came a dessert composed of simple egg cake and assorted fruits.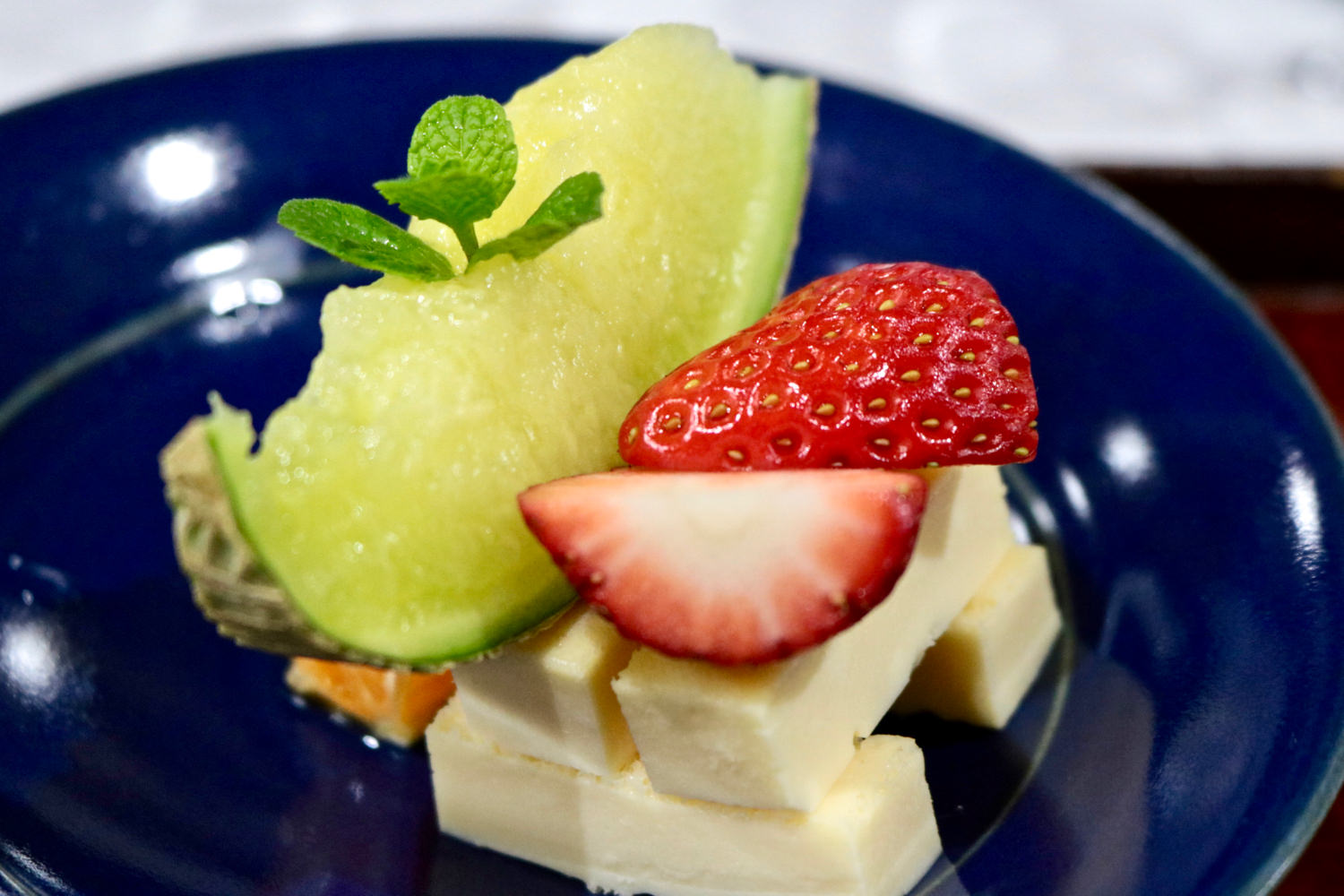 To sum up, it was a fantastic dinner, featuring a variety of produce and seafood grown and captured locally in/around the Izu region. Everything tasted natural, with flavors of individual ingredients standing out — a testament to the chef saying he doesn't use any synthetic seasonings.