A selection of tarts with a big bowl of coffee/tea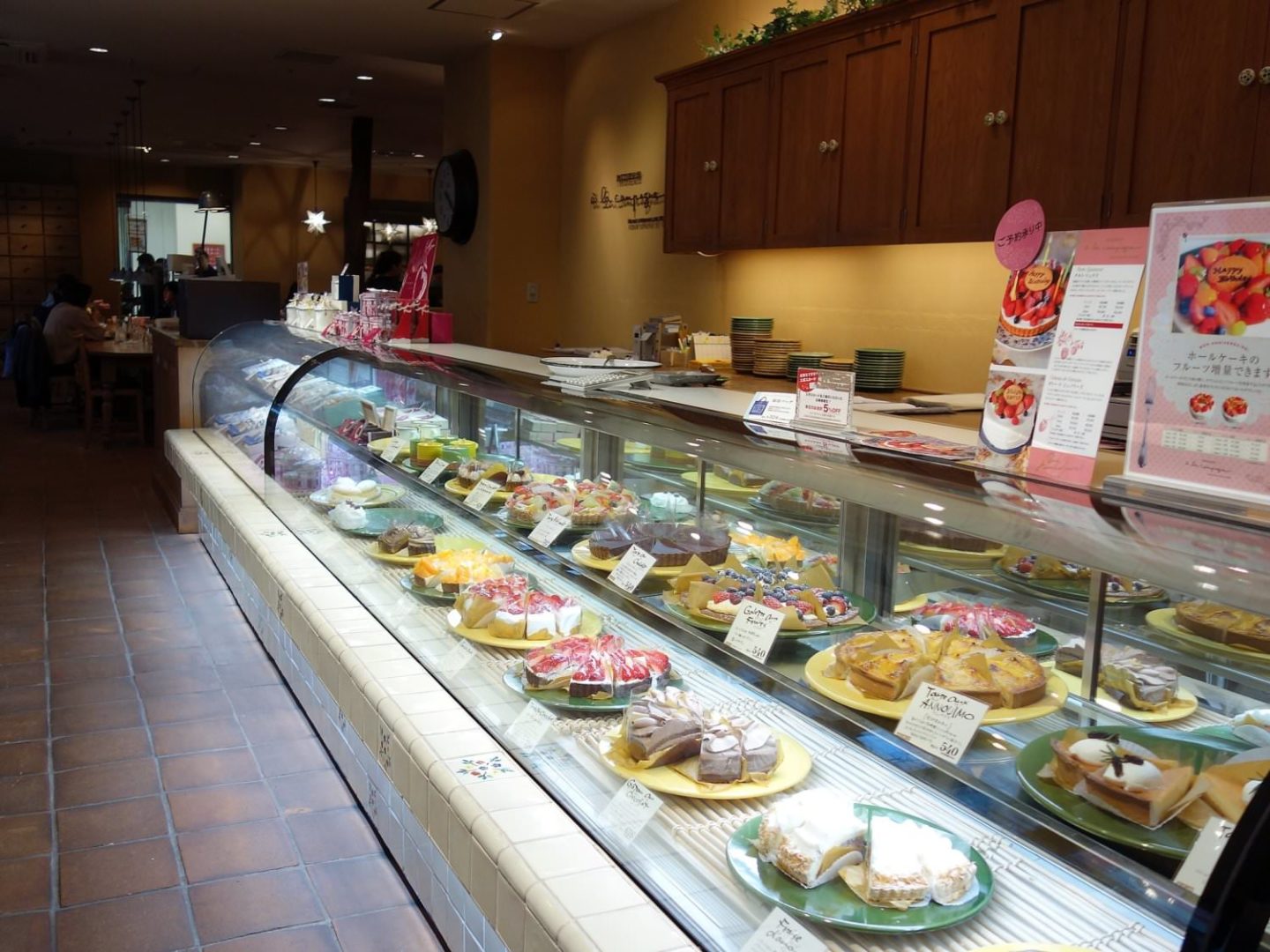 There are about 10 to 15 tarts you can choose from at any time of the year. The cake menu includes a photo and a short description of what the cake/tart is like, so you don't have to walk to the display case to pick one. Some tarts are served throughout the year, while others are for limited time only, so it's very difficult to make up your mind straight away.
But I'm the person who cannot resist trying out "limited time only" things. And I have a weak spot for anything that has chocolate and chestnuts inside. So, it actually was a pretty easy decision for me — Tarte au chocolat et marrons, it is! That, with some hot tea. My friend ordered Tarte au chocolat tourbillon and a cup of coffee.
Let's start off with Tarte au chocolat et marrons. The base of the tart has almond favor, and that formed a perfect combination with chocolate and chestnuts. The chocolate was not too sweet — I felt like I could eat this forever.
The tea was served in a cafe au lait bowl, with the cafe's name engraved on the outside. So cute! It was around 500 to 600 yen, so I felt it's a bit on the expensive side. The bowl, however, is quite big, so you're probably getting about 1.5 to 2 cups worth of tea. I still had some tea left after finishing the cake, so I could lounge around for a while and keep on talking.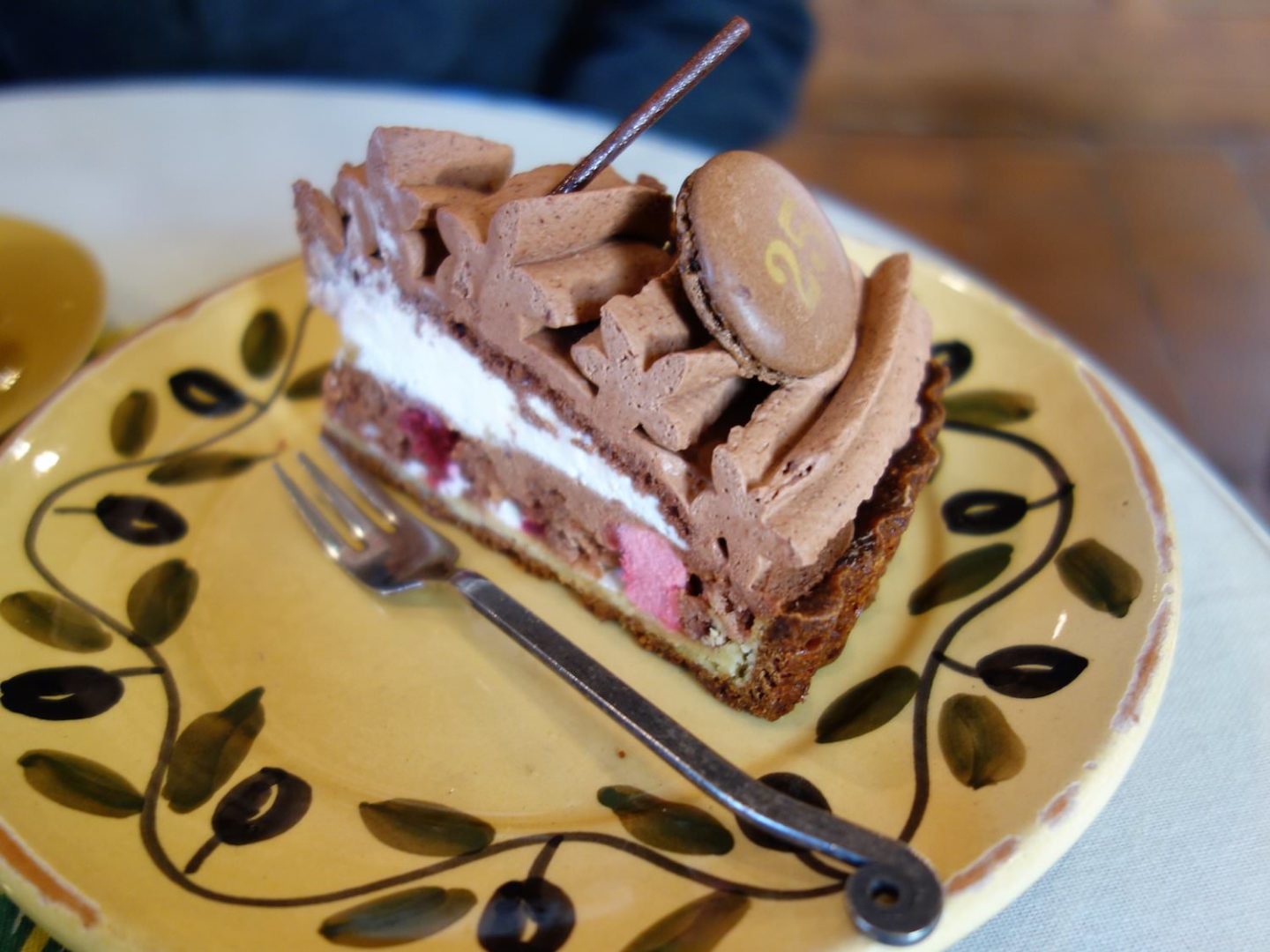 Meanwhile, my friend was enjoying his Tarte au chocolat tourbillon. The base of the tart had cacao and almonds, and it was topped with framboise mousse and ganache cream. So picturesque with pink, red, brown and white!
The chocolate used in this tart was sweet compared to the one in the marron tart. But it really went well with the sour framboise. By the way, the macaroon at the top says "25," because the cafe celebrated its 25th anniversary in 2016 (it made me curious, so I later checked on their website).
Tarts at PATISSERIE a la campagne are, generally speaking, not too sweet, so if you want something rich (i.e., full of cream), you might not find what you're looking for. But, if you've already had lunch or dinner and still have room for dessert, then by all means, stop by 🙂
I believe everything — tea, coffee, tarts — was in the range of 500 to 700 yen (sorry, I forgot to note down the prices when I was there). It's not particularly cheap, but I think it's a perfect place to take your date to, or spend a quality time with your friends.
PATISSERIE a la campagne – Ikebukuro branch

| | |
| --- | --- |
| Address | 1st floor Marui City Ikebukuro, 3-28-13 Nishi-ikebukuro, Toshima-ku, Tokyo |
| TEL | 03-5957-5870 |
| Hours | 11 a.m. – 11 p.m. |
[blogcard text_element="[blogcard link="http://www.alacampagne.jp/ikebukuro.html" /]